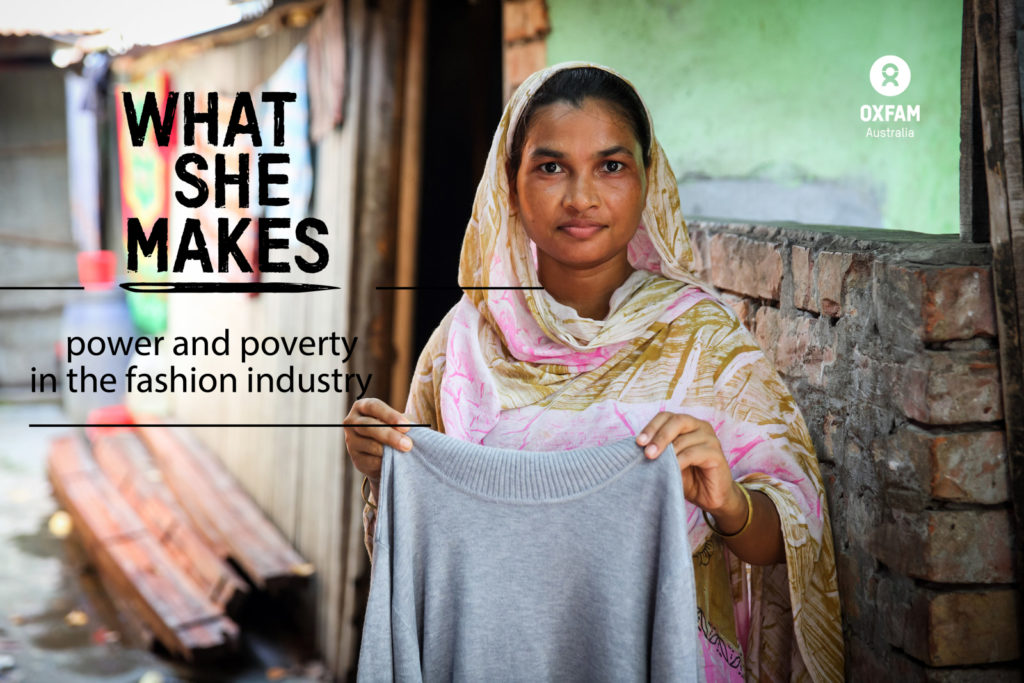 Oxfam has released a new report that reveals only four per cent of the price Australians spend on clothing is paid to the factory workers who made it, predominantly in Asia. That equates to 40¢ from a $10 shirt, even if the worker is paid the legal minimum wage in countries like China and Indonesia.
The report released Sunday, titled What She Makes: Power and Poverty in the Fashion Industry, shows that while many leading and iconic Australian fashion brands are enjoying boost in revenue, the workers making their clothes, the vast majority of whom are women, are trapped in a cycle of poverty.
The report includes research, conducted for Oxfam by Deloitte Access Economics, which shows an even direr situation in Bangladesh, where wages are extremely low and on average, just two percent of the price of an item of clothing sold in Australia goes to the wages of factory workers.
The report also argues that it is easily possible for the big brands to ensure their living wages. Wages earned in a standard week cover essential needs including food, housing, healthcare, clothing, transport, education, and some money for unexpected events. It says that if retailers ensured a living wage to factory workers and passed on the cost to consumers, prices would rise merely by 1 per cent, or 10¢ for a $10 T-shirt.
Oxfam says, while the factory owners, wholesalers and retailers of the fashion industry cut their fair share of profit, it is the garment workers, the driving force of the industry who are left with the chicken feed.
The report also includes stories from the lives of factory workers in Bangladesh in portraying the hard battles they fight to live on with the meagre wages they pocket each month. It emphasises that the fashion industry is worth billions of dollars, but is supported by poorly paid workers, who are usually young women with no power to challenge their conditions.
Alongside the report, Oxfam has released a live company tracker to publicly monitor Australia's leading fashion retailers, including brands such as Kmart, Big W, Bonds, Cotton On and Just Jeans – and their progress on paying living wages.
Read the full Oxfam report here