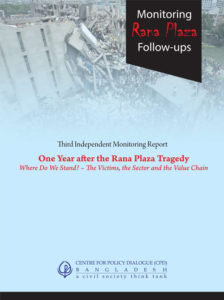 Third Independent Monitoring Report
One Year After the Rana Plaza Tragedy
Where Do We Stand? – The Victims, the Sector and the Value Chain
The Centre for Policy Dialogue (CPD) in association with fourteen civil society think tanks under an independent monitoring initiative has been tracking the progress of various initiatives related to the Rana Plaza Tragedy. As a part of this initiative, two monitoring reports have been prepared so far. The first was released 100 days after the Rana Plaza Tragedy, and the second one, nine months after. This report is the third of the series. Over the course of the year, the report has tried to focus on the issue from a comprehensive perspective, covering issues related with the victims, the sector and the value chain as a whole.
Download the Publication