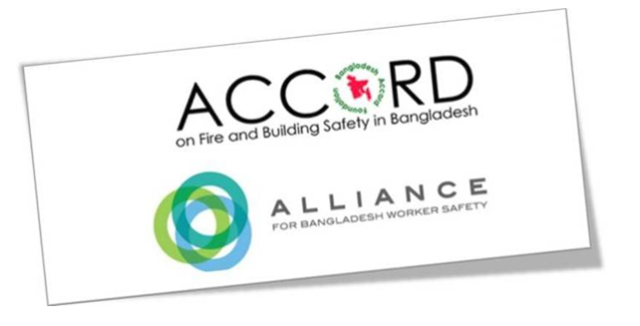 The Bangladesh Accord on Fire and Building Safety and The Alliance for Bangladesh Worker Safety, the two western buyers' platforms working to improve workplace safety in Bangladesh readymade garment sector, are to end their tenure at the end of next May, if remediation is properly completed. The Accord is a consortium of European brands and buyers, and the Alliance for Bangladesh Worker Safety is a platform of North American brands and buyers.
The decision came following a meeting with Commerce Minister Tofail Ahmed where the platforms reached consensus in this regard, as reported by The Daily Sun.
In the post-Accord/Alliance period a Remediation Coordination Cell (RCC) under the Ministry of Labour and Employment would monitor the scenario concerning workplace safety in RMG sector.
The English daily New Age said that The Alliance for Bangladesh Worker Safety will leave Bangladesh at the end of the tenure on May 31, 2018. The Accord will get a six months conditional extension wherein it will act as 'Transitional Accord'. The progress of the remediation will be reviewed in January 2018 followed by a second review on May 31, 2018.
The Daily Star reported that the remediation of factory buildings required investments from Tk 5 crore to Tk 20 crore by the factory owners.
The consensus comes just four months after the formation of a new and improved 2018 Accord, which was set to continue for three more years and included over 20 brands, including Primark, Hennes & Mauritz (H&M), Inditex. Local garment manufacturers had critically opposed the new Accord, a move that enjoyed government backing.
In mid-October, the High Court halted the new accord following a writ petition filed by a leader of an organization of garment workers and employees, reported bdnews24.com.
The Bangladesh Accord on Fire and Building Safety and The Alliance for Bangladesh Worker Safety were constituted in 2013, after the issue of safety in the readymade garment industry came under the spotlight following the Rana Plaza disaster in the same year that killed more than 1,100 people and injured over 2,500 others.
Earlier this year BGMEA decided to launch its own garment worker safety initiative similar to Accord and Alliance.
In its four years post-Rana Plaza progress report, published in May 2017, the Accord had indicated that the garment industry in Bangladesh had "significantly improved," though just 4 percent of factories under the Accord had been fully remediated.